CNI News
3 Oct 2022
As Shan ethnic armed organizations are distancing themselves from the ongoing Spring Revolution, some people are beginning to question their stance and have called for them to join the revolution.
Some local political observers said that it was difficult for Shan EAOs to join the revolution as they are undergoing a different situation from others and they have to take great care of areas under their control.
However, China-based Myanmar political observer Dr Hla Kyaw Zaw said that EAOs in Shan State were likely to join the revolution gradually.
She told the CNI that it bodes well for EAOs to hold talks in Pangsang recently. Some of them are engaging the military in armed conflicts, others are holding talks in Nay Pyi Taw but they are united. It bodes well for them. So, even SSA might join their alliance gradually. Saying that, it will not be easy form a united front because the junta will not sit idle. It will sow the seed of discord among them. All our politicians and revolutionaries are clear about that. We should do everything to undermine the junta from multiple fronts. So, EAOs will join the revolution gradually not only in Shan State but also in the entire country. Everyone must exert efforts to that end."

Meetings between leaders of the MNDAA and the UWSA.
Under current circumstances, EAOs in Shan State are not in a position to fight the junta unitedly, Political Observer U Than Soe Naing told the CNI.
He said, "EAOs in Shan State are in disagreement. The Shan State Progressive Party and the Restoration Council of Shan State are fighting each other for territorial control instead of fighting the military. So, EAOs in Shan State cannot fight the military unitedly. There is a alliance of three brotherhood, which can operate in the state to some extent including the TNLA, the MNDAA, and the AA."
Currently, the National Unity Government does not have much influence on and is less active in Shan State, he added.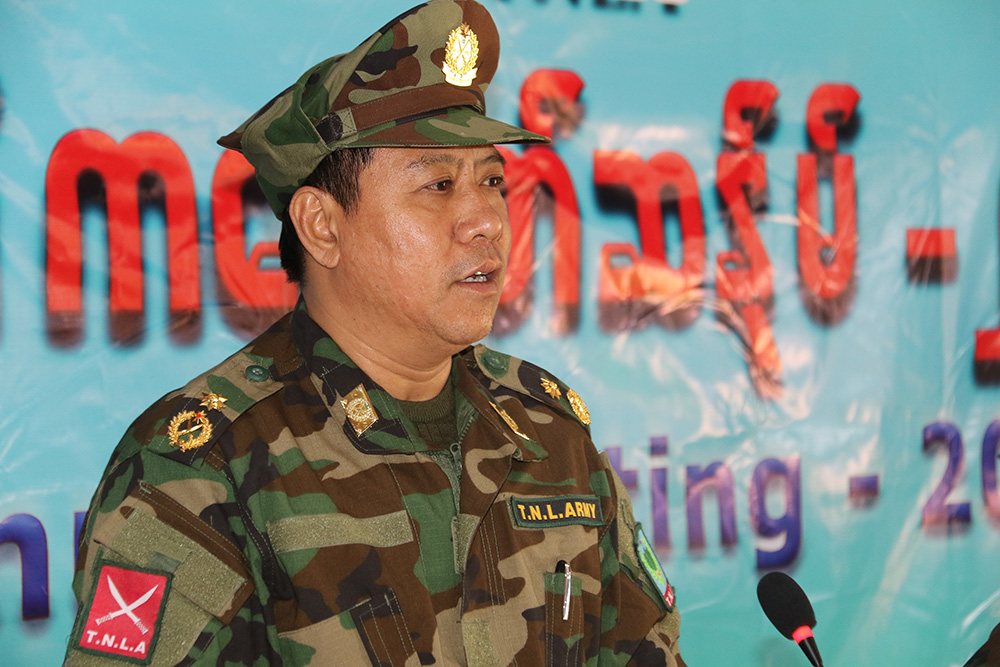 Vice Chairman Brig-Gen Tar Gyokegyar.
The SSPP, the RCSS/SSA, the UWSA, the MNDAA, the NDAA, the KIA, the TNLA, the PNLO, the LDU and many other militia groups are active in Shan State.
Among them, the UWSA, the NDAA, the SSPP, the RCSS, the PNLO and the LDU are holding peace talks with the junta while the TNLA, the KIA and the MNDAA rarely fight the junta.
Militia groups are under the command of the junta and they cannot be counted on.
The UWSA considers the current crisis a conflict between two Bamar leaders and urged them to address the issues through negotiations, according to a statement from them.
At present, joint forces of some EAOs and local PDFs are fighting against the military in Sagaing and Magway Regions and in Kayin, Kayah and Chin States.