CNI News
5 September 2023
When Myanmar nationals in Malaysia apply for passports, the appointment system has changed starting from 4th September, 2023, which Myanmar Embassy in Kuala Lumpur stated. 
In the pass when Myanmar nationals renewed their passports or applied for new ones, they had to go to the embassy in person on the appointment day. 
According to the system that has been changed, they have to take QR code online without having to go in person to take an appointment. New system is better and reliable, said Ma Chit Thae living in Malaysia, to CNI News.
" Some people have to come from distant places. Coming by car takes them 4 to 6 hours to get to the embassy. If undocumented, they are worried to be checked on the way. If QR code is used, Myanmar nationals can easily register from the places where they live. Difficulty is nothing particular. Even taxi rental software and delivery software can be easily used here. It's not very difficult to use QR code. Some restaurants in Malaysia don't keep menu cards. They put a QR code on the table. So, it will be convenient." said Ma Chit Thae.
WWW.melk.org can be accessed by mobile phone or computer to take a QR code online. A person who want to renew or apply for a new passport must fill in the information he wants to carry out about the service of the consulate, stated the embassy.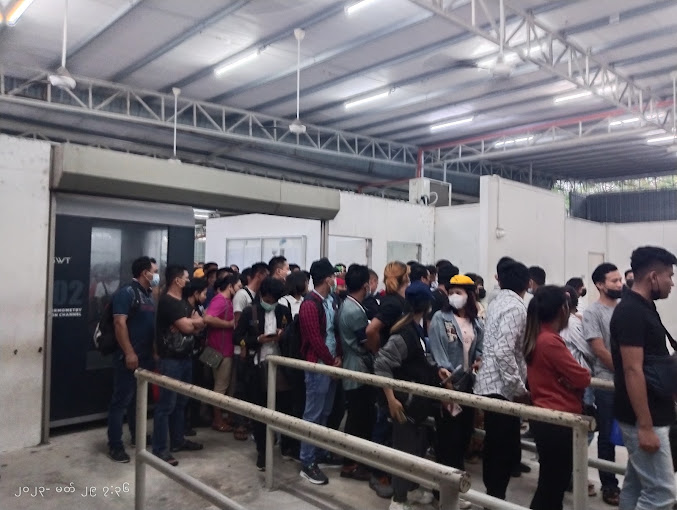 Myanmar peoplee waiting in line to make passports
Moreover, the embassy will send the message to the mobile phone that is registered the day when he will come to the embassy and release the information real time on its social network pages.
Although the system change like this was more convenient than before, the role of brokers would not die out, said Hmwar Michael, one of the people helping in the affairs of Myanmar nationals, to CNI News.
" If the people whose passports are going to expire soon were served quickly and the people whose passports has a lot of time to expire were served a few months later, it would be more convenient. Because, as you know, our nationalities can do nothing without brokers. They think that only if the broker fill their name and their father's name, it will be correct. So, if they take the QR codes, they will ask the brokers. While taking the token online in the past, whenever you tried to take the token, you would find the list was always full. You had to wait a lot of time. It was inconvenient." said Mwar Michael.
In the past, when a person applied for the passport, he had to make an appointment in person after which he had to wait several months, to get the passport, pointed out Myanmar people in Malaysia. Moreover, Myanmar Embassy raised the fines for the passport loss or damage from 330 to 480 ringgits starting from the end of July when a new passport is applied.